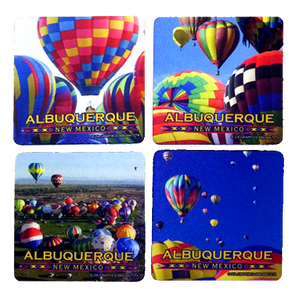 Albuquerque Balloon Coaster Set
Introducing our Albuquerque Balloon 4-Coaster Set – a charming and functional tribute to the iconic hot air balloons that grace the New Mexico skies. This meticulously designed coaster set captures the essence of the Albuquerque International Balloon Fiesta, adding a touch of Southwestern flair and practicality to your living space.
Each coaster features a vivid and intricate depiction of hot air balloons taking flight against the backdrop of the New Mexico landscape. The rich color palette captures the warmth of the desert sun and the breathtaking spectacle of the balloon fiesta, while the attention to detail showcases the diverse and imaginative designs that fill the skies during this renowned event.
Crafted with durability in mind, our coaster set is made from high-quality materials that ensure protection for your surfaces while exuding a sense of style. Measuring 4 inches in diameter, these coasters provide ample space for your favorite mug, glass, or cup, preventing unsightly water rings and spills while inviting you to appreciate the beauty of New Mexico's balloon culture.
Whether you're an Albuquerque local, a hot air balloon enthusiast, or someone who appreciates the unique charm of this annual event, our coaster set allows you to bring a piece of the Balloon Fiesta into your everyday life. Showcase these coasters in your home, office, or gift them to fellow balloon lovers – each use becomes a celebration of the captivating spirit of New Mexico's skies.
Elevate your beverage experience with our Albuquerque Balloon 4-Coaster Set. It's not just a practical addition; it's a testament to your connection to the wonder, culture, and visual splendor that define the hot air balloon tradition in Albuquerque, New Mexico.