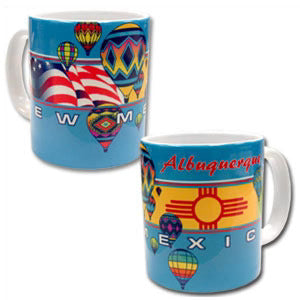 Albuquerque Balloons "Balloon Stripe" Mug
11 oz. ceramic mug featuring the full wrap Albuquerque Balloons "Balloon Stripe" design. Microwave safe.
The "Albuquerque Balloons Balloon Stripe" Mug is a delightful homage to the vibrant and colorful hot air balloons that grace the skies of Albuquerque during the annual Balloon Fiesta. This mug captures the essence of the event's lively spirit and the unique beauty of the balloons in flight.
Crafted with care, the mug features a design that showcases a delightful array of hot air balloons. The balloons, each with its own distinctive pattern and color scheme, create a captivating stripe pattern that encircles the mug. This design echoes the diverse and lively scene that fills the skies during the Balloon Fiesta.
The "Albuquerque Balloons Balloon Stripe" Mug isn't just a container for your favorite drink; it's a visual representation of the excitement, beauty, and unity that the Balloon Fiesta brings to Albuquerque. As you enjoy your beverage, you're transported to the vibrant atmosphere of the event, where the skies become a canvas for creativity and celebration.
Whether used as a personal reminder of the Balloon Fiesta or as a thoughtful gift for a fellow enthusiast, this mug is a tangible connection to the joy and wonder of the Albuquerque International Balloon Fiesta. It's a way to relive the magic of the event each time you take a sip.