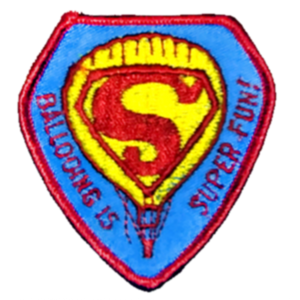 Ballooning Is Super Fun Embroidered Patch
3.25"W x 3.25" H
Introducing our "Ballooning is Super Fun" Patch – a vibrant and playful emblem that captures the sheer joy and excitement of hot air balloon adventures. This patch is more than just a decorative accessory; it's a visual expression of the exhilaration that comes with floating gracefully through the sky in a colorful balloon.
Crafted with care and precision, our patch is made from high-quality materials that ensure durability and vibrancy. The patch's size and design make it the perfect embellishment for jackets, bags, hats, and other fabric surfaces, allowing you to proudly display your love for ballooning wherever you go.
Whether you're a seasoned balloonist, an aspiring adventurer, or someone who embraces the thrill of the unknown, our "Ballooning is Super Fun" Patch invites you to celebrate the pure delight and boundless happiness that come with floating gently among the clouds.
Experience the sheer joy of ballooning with our patch – it's not just an accessory; it's a wearable testament to the exhilaration of soaring high above the earth and the sense of wonder that comes with every flight.