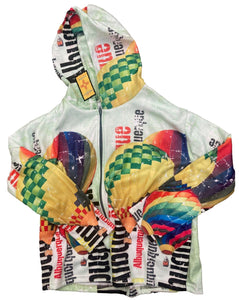 Grunge Balloon Zip Hood
Introducing our captivating Full Print Albuquerque Balloon Hoodie – a wearable canvas that immerses you in the enchanting world of hot air ballooning against the stunning backdrop of Albuquerque. This hoodie is more than just clothing; it's a statement piece that celebrates the city's iconic ballooning culture.
The hoodie features a full-print design that showcases a vivid and detailed hot air balloon scene set against the breathtaking Albuquerque landscape. Balloons of various colors and shapes ascend into the sky, creating a mesmerizing visual spectacle that captures the spirit of the city's famous Balloon Fiesta.
Crafted with meticulous attention to detail and comfort, our Full Print Balloon Albuquerque Hoodie ensures not only a captivating look but also exceptional softness and warmth. The high-quality materials guarantee a cozy fit, making it perfect for cooler weather or whenever you want to wrap yourself in the beauty of ballooning.
Whether you're an Albuquerque local who cherishes the city's ballooning heritage or simply someone who appreciates the blend of art and adventure, this hoodie invites you to embrace the vibrant culture that makes Albuquerque unique.
Experience the magic of ballooning and the allure of Albuquerque with our hoodie – it's not just clothing; it's a wearable masterpiece that lets you carry the essence of the city's Balloon Fiesta with you, expressing your appreciation for both artistry and the city's iconic event.