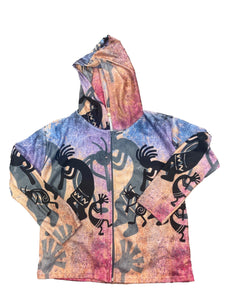 Kokopelli Zip Hood
Introducing our captivating Kokopelli Full Print Zip Hoodie – a wearable canvas that seamlessly blends the timeless charm of Kokopelli with the comfort and style of a hoodie. This hoodie is more than just clothing; it's a statement piece that celebrates the playful spirit of Southwest folklore in a modern and fashionable way.
The hoodie features a full-print design that showcases a vivid and detailed representation of Kokopelli. This iconic figure is surrounded by intricate patterns and symbols that capture the essence of Southwest traditions, creating a mesmerizing visual spectacle that pays homage to cultural heritage.
Crafted with meticulous attention to detail and comfort, our Kokopelli Full Print Zip Hoodie ensures not only a captivating look but also exceptional softness and warmth. The high-quality materials guarantee a cozy fit, making it perfect for cooler weather or whenever you want to embrace the spirit of Kokopelli with style.
Whether you're a fan of Southwest traditions, a believer in Kokopelli's symbolism, or simply someone who appreciates the blend of artistry and comfort, this hoodie invites you to embrace the magic of cultural heritage.
Experience the charm of folklore and the allure of modern fashion with our hoodie – it's not just clothing; it's a wearable masterpiece that lets you carry the essence of Kokopelli and the spirit of the Southwest with you, expressing your appreciation for both tradition and style.