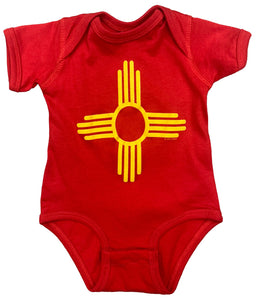 Red Zia Symbol Onesie
Introducing our adorable Red Zia Symbol Onesie – a delightful and charming outfit for the youngest members of the Land of Enchantment. This onesie is more than just clothing; it's a wearable emblem that represents your connection to New Mexico and its cultural identity from the very beginning.
Crafted with meticulous attention to detail and comfort, our Red Zia Symbol Onesie features the iconic Zia symbol prominently displayed against the vibrant red background. The four rays radiating from a central circle hold deep meaning, symbolizing harmony, life, and the interconnectedness of the four cardinal directions – values that resonate with New Mexico's essence.
Designed for comfort and style, this onesie is a perfect choice for showcasing your family's New Mexico pride and cultural heritage. The snap closures ensure easy dressing and diaper changes, making it a convenient choice for parents and caregivers.
Whether you're an Albuquerque native passing down your state's identity or simply someone who wants to share the love for New Mexico with the next generation, this onesie invites you to introduce the essence of the Land of Enchantment from the very beginning.
Experience the charm of state pride and the allure of cultural symbolism with our onesie – it's not just clothing; it's a statement piece that lets you carry the spirit of New Mexico's identity and the symbolism of the Zia with your little one, expressing your appreciation for both culture and family in an adorable and meaningful way.