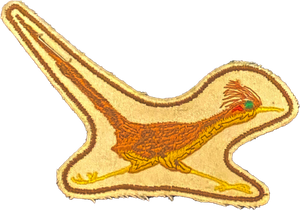 Roadrunner Patch
Approx. 3 1/2" x 2 1/2"
Introducing our charming Roadrunner Patch – a delightful emblem that captures the essence of New Mexico's unique wildlife and spirit. This patch is more than just an accessory; it's a wearable representation of the state's identity and its iconic roadrunner.
Crafted with meticulous attention to detail and quality, our Roadrunner Patch features a design that beautifully depicts the charismatic roadrunner, an emblematic and agile bird that's synonymous with the southwestern landscape.
This patch is the perfect size to adorn clothing, bags, hats, or any item that you want to personalize with a touch of New Mexico's wildlife and character.
Whether you're an Albuquerque native who appreciates the state's wildlife or simply someone who enjoys the blend of nature and fashion, this patch invites you to carry the spirit of New Mexico's identity with you wherever you go.
Experience the charm of local wildlife and the allure of design with our patch – it's not just an accessory; it's a statement piece that lets you express your connection to New Mexico's natural beauty and cultural identity, enhancing your personal style and showing your appreciation for both nature and craftsmanship.